Can You Say 'Bingooooo'?
Nowadays bingo is becoming more and more popular in the UK. The rules are quite simple so you don't need to master certain strategies to walk away a winner. Everything you should have is some good luck. That is why many people prefer it as a way to relax and gain profit at the same time. Yet, there is no greater adrenaline rush of winning a few bucks in some minutes.
Bingo history brings us back in Italy in the 16th century. That is the time when the Italian lottery is held every Saturday. A hundred years later, the game was moved to France where it used to be called 'Le Lotto' . It has been played by the wealthy French people. In the 20th century the game was brought to North America with the name 'Beano'. That was the beginning of the fame of the today's well-known game bingo.
The Principles of the Game
Bingo is a game which could be played both in bingo halls and online. The rules that apply for the different places are usually different. When it comes to gambling online, specific rules and payouts should be clearly written on the website of the bingo hall, which you have chosen. Generally, all players who want to take part in the game need to buy several bingo cards. They have numbers from 1 to 90 on themselves (the so-called American Bingo, however, is played with numbers from 1 to 75).
Each bingo card contains 24 squares with numbers and one empty square, which are situated 5 on 5 on each card. When the game starts, the operator pulls random numbers and has them declared. So, the one who gets a line first wins a bingo prize (a line of 5 numbers in horizontal, vertical or diagonal). The numbers on the bingo cards are randomly placed in the boxes. Each player can choose the bingo cards that would like to buy. Every bingo card is unique and there are series of 6000 and even 9000 unique bingo cards.
When the game begins, players are not entitled to purchase more bingo cards until they finish the game. During the game random numbers are being drawn and announced by the speaker in the bingo hall. You must check whether the particular number is included in your bingo card (or cards). If you have one or more cards, you should carefully note it on them. That should be done until one or more players call 'bingo'. Then the game stops, the numbers are checked and the prize is awarded to the winner/winners.
The Most Popular Bingo Variations On- and Offline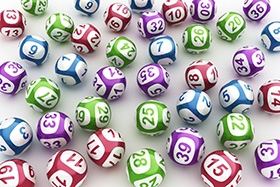 The traditional bingo is a game of chance, which is played through a machine that contains 75 balls numbered from 1 to 75. The aim of the game is to note the number of the network gradually and reach the modem (modems are simple: vertical, horizontal, diagonal and complex). Bingo '90 ball' consists of three rows and nine columns. Such type of Bingo is won by one of ten years. Five fields are numbered in specific order. The winning combination is called the 'Full House'. There are different bingo variants in countries around the world. In some regions, the game is a set of numbers and words. That means more fun, but also a bit more complications. Another bingo game that can be played online is called Buzzword. There are only words included instead of numbers. The online bingo rooms offer not only the traditional bingo games, but some innovative and original versions such as Video Bingo, '80-ball' and Joker Jackpot. They combine a card game and bingo.
Basic Tips and Strategies
Although Bingo is a game of luck, there are some important tips that you can follow to have more pleasant and profitable game:
You should always look for bonus money and bonus games. Online bingo halls with high reputation often have bonus money and/or bonus games in store. If you are a novice player, you will definitely want to take those presents. They are a great opportunity for you to play for longer and hone your skills.
Never play with more bingo cards than you can track! If you have too many cards, you may not be able to examine them and note the winning numbers correctly and on time. Therefore, you can miss one or two numbers, which will ruin your game. It's a good idea to play with as many bingo cards as you can handle because your winning chance increases. However, if you are a beginner you can easily get confused.
Our last advice is to not to play at peak hours when online bingo halls are crowded with players. Bingo games with bigger jackpot mean more opponents, but also a huge attractive real-money amount, just waiting to be won. If you are a jackpot hunter, you can find some more jackpot games right here.
Top-rated Rooms to Play at
Ladbrokes – that is one of the most trustworthy gambling operators online. It offers an incredible betting product, including sportsbook, casino, exchange games, poker and of course, bingo. You will relish the excellent graphics and sound by downloading the gaming software. There are great promotions for both new and already registered players (mostly monthly promos are available there). Not only that but Ladbrokes has a guaranteed £10,000 in prize pools every day. The daily £2000 Bingo Linx at 12pm is just the beginning. Then you may enjoy another lucrative game every half an hour.
Bet365 – that is one of the friendliest places to play bingo online. Not surprisingly, it is preferred by lots of users all over the world. The operator has an amazing No Deposit Bonus of 200 Bingo tickets worth of £10. All you need to do is join any bingo room and you will get that present immediately. When you make your first deposit, you become eligible for a 200% Deposit Bonus up to £100. So, if you 'buy-in' at least £10 you will receive £20 extra. In order to get your winnings, you should play through your bonus amount on Bingo tickets four times.
Costa – although Costa Bingo is one of the newest bingo sites on the web, it is already quite popular. As soon as you land there, you will notice the positive 'atmosphere' thanks to the fresh 'sun and sky' design. Costa offers free bingo 24 hours a day but that is not all. There are many real-money jackpots which are nothing but really attractive. Costa has two amazing offers for all novice players. As soon as you create your account you will get £5 absolutely free. When you fund it, you may take advantage of a 200% match bonus up to £40. So, making a single deposit of £20 will bring you £40 and you will have £60 in total to play with! You will also have free access to the 'First Time Depositor Freebie' game where a £15 jackpot is available for grabs every hour. Each time you redeposit you have the chance to gain free entry into the 'Daily Deposit Reload Freebie' game. There is a £15 jackpot guaranteed for getting every 30 minutes. That is not all, you may claim a wonderful 50% match bonus up to £375.
What is The Best Mobile Bingo App?
888 is an exclusive gambling destination for lots of players worldwide. High-quality, safety and fun, those words are quite enough to describe that operator. The same goes for the 888 bingo site, named 888Ladies. They have a fantastic mobile bingo platform so you may easily play when you are on the move. You must have either Apple or Android device. Beginning your mobile bingo experience is really simple and here is what you should do:
Visit the mobile website through the browser of your portable device
Scan the special QR code
Download the beautifully-designed 888ladies app from the App Store
888Ladies have prepared an incredible Welcome bonus for all newbies. If you sign up today, you may claim your 250% match bonus up to £250. Only at 888Ladies you have the possibility to win up to £200 on '90 ball' bingo and it is absolutely free. The promo is available only on Sundays at 9pm. You could be sure there are plenty of hot promotions that you should keep track of. 888Ladies feature both classic bingo games, '75 ball' and '90 ball' bingo. You may also enjoy there some instant games which are available in the time between the bingo sessions. There are some additional games such as online roulette, blackjack and marvelous slots. When it comes to banking we could state firmly that it is safe and secure. You may deposit (and withdraw) your cash via the same methods which are listed on the main 888ladies website. The options for you include the widely-used Visa, MasterCard, Maestro, PayPal, Ukash, etc.