A Glance at the History of the Roulette
Roulette is one of the casino all-time favourites. It is an almost 300 year-old game but actually no one knows any details regarding its origins. There is an evidence of ancient Rome for soldiers who have played a similar game. The word "roulette" is french and means "little wheel". Several early versions of roulette appeared in Europe in the 17th and 18th century. In the beginning of the 19th century the game was moved to America. Nowadays the most popular roulette variations are French, European and American. Some people claim they can use a kind of strategy to win but we believe the outcome is mostly a matter of luck.
Basic Rules and Types of Bets Explained
The roulette players are usually up to 8 people. They compete against the casino, represented by the dealer. The common types of Roulette are European and American. In the European Roulette, all numbers from 0 to 36 are included. The American version features one more number – double zero (00). That greatly increases the advantage of the house over the players.
The player's goal is to guess the numbers which will be dropped after the rotation of the wheel. The payout varies from 1 to 1 to 35 to 1 depending on the probability of guessing the correct number. Perhaps the most important question for you right now is how to bet. The options for you are countless. In general, stakes are divided into 'inside' and 'outside' as the first ones have bigger payout and less winning chance, and the second – less payout and better chance of profit.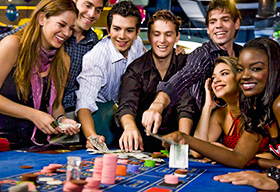 The 'inside' stakes include the following betting possibilities: Straight Up – that is a bet on a single number; Split – you place a bet on the line between two adjacent numbers, it may be either horizontally or vertically; Street – the stake is on three numbers in a horizontal line; Corner (Square) – that is a bet on 4 numbers, which form a square; Six Line (Double Street) – it is a bet on two adjacent streets.
You can also put your stake at a particular colour. If you do you have almost a 50 percent chance to return your 'invested' cash. Some examples for such bets are the following:
Rouge – all red number
Noir – all black numbers
Pair – all even numbers
Impair – all odd numbers
Manque – all numbers from 1 to 18
Impair – all numbers from 19 to 36
When the ball lands on 0, there are three options. In the best case, those who bet on zero (or the lucky ones with a zero in one of their combinations) win. Another possibility is that everyone else will lose. Here is the third alternative: bets will be 'frozen' and their fate will be decided for the next spin.
How to Win – Tips for Beginners
We are giving you some useful tips that will help you to have more fun while playing roulette and increase your winning chances:
It is recommended to place 'outside' bets, whether they are black/red, odd/even, high/low, columns or a dozen. That way your profits may be small but almost sure.
Practice can make everybody good in each area. The same goes for playing roulette games. The advantage of the online casinos over the land-based, for instance, is that they allow you to gamble in a demo version of the games
Take some of your winning money during the game to ensure you won't lose much. For example, if you start the game with £100 and reach a total of £150, you'd better put the profit of £50 aside. That is a kind of insurance that you won't lose it in the event of a bad series
Play European Roulette instead of American Roulette (when you have the option to make a choice). The reason behind our advice is that American Roulette has two green sectors, instead of one. It increases the advantage of the casino over you and reduces your winning chances consequently.
Use strategies and betting systems when you play roulette. Although luck is the most important factor for winning that game, strategies are the result of careful calculations and should not be underestimated.
A very few people know that the numbers on the roulette table are not evenly spaced. If you look at the dozens of, you will see that each of them has six red and six black numbers. When you look at the columns of 12 numbers, you will notice that it is different. Red and black numbers are not evenly spaced in the first two columns, as opposed to the third, which also has six black and six red numbers. Once you notice this imbalance, you can use it to your advantage.
Divide your budget to 25 parts to get the amount you need to wager on each spin. If you have a budget of £250, then you should bet £10 on each spin so you can stay for longer in the game.
One of the most important rules for any gambling game is to never play with more money than you can afford to lose.
The Best Casinos for Roulette Fans
William Hill Casino – when it comes to roulette games, that Playtech-powered casino is one of the best choices ever. Its refined software promises you a really pleasant gaming experience. The clear audio and the smooth animations will strike you. There are more than 5 roulette variations in both online and downloadable versions. In addition to the classic European, American and French Roulette, you may enjoy also some innovations such as Mini Roulette, Multiwheel Roulette and even 3D Roulette. William Hill Casino offers the finest live casino experience you can find on the web. So we advise you not to miss your chance to enjoy the high-quality live action of the Live Roulette tables. You may choose the one that suits you best. The bet limits are either £0.10-£15 or £1-£50. If you are still not ready to play with real money, you can always have fun in the practice mode of the games offered. Read more about the roulette games offered by William Hill Casino.
888 Casino – that reputable operator has several amazing offers not to be missed. You can get £88 FreePlay to play video slots, blackjack and of course, roulette games. What is the greatest about that promotion is that you don't need to make a deposit to take advantage of it. Sign-up process is quite easy and doesn't take much time. Once you have experienced gambling for free, you may go on with making your initial deposit and get a 100% match bonus up to £100. The roulette variations you can find there are as follows: European Roulette, Rockin' Roulette, 3D Roulette and even Live Roulette. No matter if you are a high-roller or a beginner, you will find a suitable table for you. In case you are not quite familiar with roulette, there is an option for you to play in a demo version.
Betfair Casino – if you are a really passionate fan of roulette games, at Betfair Casino you will find the variety you seek. They feature not only classic versions such as American and European Roulette, but 3D Roulette, Exclusive Roulette, Mini Roulette as well. We should not forget to mention the live version of the game. Those friendly and experienced dealers will do their best to make you feel almost like you are in a brick and mortar casino. If you decide to try Betfair Live Roulette, then you will be warmly welcomed by receiving 10 free spins worth of £10.
Play Your Favourite Game Wherever and Whenever You Want
Spin Palace Casino are fully focused in providing you an ultimate mobile casino experience. Whether you want to play via your iPhone or iPad, a Blackberry or an Android phone, you won't be disappointed. Thanks to the clear and user-friendly interface gambling on the go has never been so easy and pleasant. To get started at Spin Palace you need to visit the mobile website through your device. Being a regular player will bring you not only plenty of fun time but generous rewards, too. Speaking of bonuses we must point out the Welcome Bonus, which is pretty lucrative, up to £1000. When you make your first deposit of at least £10, the casino will match it 100%. The good news is that it is not all. There are some gifts for you on your next two deposits. When you 'buy-in' for the second time, you will get a 25% match bonus. On your third deposit, you will take an even greater reward – a 50% match bonus. Many special hot promotions are designed for all mobile players, not to mention the huge jackpots which are 'waiting' the lucky one of you to grab them.